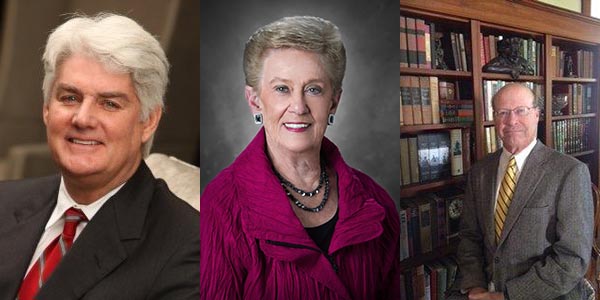 13 Mar

BGA inducts 2018 class of Hall of Fame
Mary Dean Gray, Richard L. Jeffers III and William T. (Billy) Wood inducted into the Birmingham Golf Association's Hall of Fame 2018 class
On April 14, Mary Dean Gray, Richard Jeffers and William T. (Billy) Wood were inducted into the Birmingham Golf Association's Hall of Fame.
They became the 79th, 80th and 81st inductees in the BGA's Hall of Fame history. The BGA was formed in 1965.
Mary Dean Gray
Mary Dean Gray began playing the game in Jasper, where, at the age of eight, she received her first set of clubs and learned to play the game with her parents at Musgrove Country Club.
She met her husband, James C. (Jim) Gray, Jr., at the University of Alabama. They have three children and nine grandchildren. They lived in Birmingham before moving to New Jersey for 10 years where they were members at Ridgewood Country Club, and she won the club championship. It was at Ridgewood that her love of golf administration and Rules began. She and Jim helped work the U.S. Amateur at Ridgewood CC in 1974 and served as the host family for University of Alabama superstar Jerry Pate, who won the championship.
They moved back to Birmingham in 1977, becoming members of the Country Club of Birmingham at that time. Unfortunately, Jim passed away in 1994.
She was the Golf Chairman at Country Club of Birmingham in 1984 and 1996, and won the club championship at the Country Club of Birmingham in 1989.
In the early 1980's Gray helped develop the girls junior program at the Country Club of Birmingham and, together with Jean Miller, was instrumental in the development of LPGA/USGA in Birmingham. She was the recipient of the Ladies Birmingham Golf Aassociation Outstanding Contributor Award, has served as LBGA Team Captain for the Country Club of Birmingham since 2004, has been Chairman of three Member/Guest Tournaments and seven Invitational Tournaments and been Co-Chairman (Scoreboard) for two USGA championships.
She served 12 years on the USGA Senior Women's Committee, attended nine years of USGA Rules School, spent eight years rating golf courses and conducted five Senior Women's Amateur qualifiers.  She was a Committee Member for the two PGA Championships at Shoal Creek, served as a Rules Official for the SEC, USGA, Alabama, Auburn and Samford tournaments and attended three Curtis Cups.
Upon her return to Birmingham in 1977, she also became active in the Women's Alabama Golf Association (WAGA), serving on the Board of Directors as Host Director 1988-1989, Senior Director from 1990-1991, Vice President from 1992-1993, President Elect in 1994, President from 1995-1996 and Past President in 1997. In 1993 she became Treasurer and a Trustee of the WAGA Scholarship Foundation Trust. She attended the Southeastern Women's State Team Championships from 1993-2010 and has attended all three Challenge Cup Matches to date. She received the WAGA Appreciation for Outstanding Contribution Award in 2000 and served as 2017 Captain for Alabama's USGA Team Championship.
"I continue to be an avid golfer and, together with my wonderful family, I am a active member of Canterbury United Methodist Church. One of my greatest enjoyments is playing golf with my grandchildren.
"Golf, and the friendships I have made through the great game of golf, have been instrumental throughout my life. I have always felt the game of golf has given me so much and I always wanted to give back to the game. I never did it for the recognition but I must say, at this point in my life, it means more to me than words can express to have such a prestigious award presented to me by my peers," Gray said.
She is a member of the Country Club of Birmingham.
---
Richard L. Jeffers III

Richard L. Jeffers III was born in Birmingham in 1954. He attended Crestline Elementary School, Mountain Brook Junior High School and Mountain Brook High School. He was on the Mountain Brook Varsity Golf Team for three years, and in his Senior Year, 1973, the team won their first State High School Golf Championship.
He was the champion of the Birmingham Junior Golf Tournament in 1972 and 1973, and qualified for the 1972 U.S. Junior Amateur.
He played his college golf for Florida State University from 1973-1977 and played in the NCAA Tournament in 1976 as individual and the 1977 NCAA Tournament with his team.
In 1976 he won the Vestavia Men's Invitational, Country Club of Mobile Labor Day Tournament and Tallahassee City Championship.
He has won the Country Club of Mobile club championship eight times, the senior club championship five times and the Labor Day Tournament three times, with amazing longevity, each win 20 years apart (1976, 1996 and 2016)!
He has won a record five different state championships: 1996 and 2002 State Four Ball with Joey Dzwonkowski; 1997 State Amateur; 2004 State Mid-Amateur; 2005 State Senior Amateur; and 2008 State Senior Four Ball with Mark Miller, son of BGA Hall of Fame member the late Jean Miller.
He has also played in the 1997 USGA State Team Tournament; the 2016 US Senior Amateur; and the 2017 British Senior Amateur.
He remains an active annual member and participant of the Lite Scratch Tour in Mobile, which plays a ten-tournament season.
"Having grown up playing golf in Birmingham, this is such an honor. Junior golf and golf in general was very big in Birmingham during those years. There were so many great players and people during my formative years. Seeing the list of Hall of Fame members brings back great memories and this is humbling to be in their company," Jeffers said.
He grew up as a member of the Country Club of Birmingham and has been a long-time member of the Country Club of Mobile.
---
William T. (Billy) Wood

William T. (Billy) Wood joins his father, the late Walter Wood, as only the second father-son duo in the BGA Hall of Fame, with the late Hall Thompson and his son, Michael D. Thompson, going before them.
Siblings Tab and Steve Hudson are also both in the BGA Hall of Fame.
Wood grew up playing the game at the Country Club of Birmingham and was talented in both golf and football. This led to him being a two-sport athlete at Auburn University, where he lettered in both.
He would win numerous titles and invitationals including the Heart of Dixie, Vestavia CC multiple times, and Musgrove CC.
He won four Country Club of Birmingham club championships, as well as the Country Club of Birmingham senior club championship, and five Shoal Creek club championships.
He qualified for two U.S. Amateurs and two U.S. Mid-Amateurs.
He started Links Magazine in 1988, which would later become GolfSouth Magazine.
When he started Links, legendary Birmingham News golf columnist Jim Martin asked him why?
"A lot of people asked me that," Martin quoted Wood as saying. "They thought I was crazy. I imagine some people thought that about Hall Thompson when he decided to build Shoal Creek.
"But it's a love of mine. And I certainly wanted to do it right."
It was also sanctioned by the Alabama Golf Association and distributed to their members for a number of years.
He served the Alabama Golf Association as a board member for many years, culminating with serving as their President in 2005 and 2006 and was a long-time board member at the Country Club of Birmingham.
"I am so thrilled and honored to join such a wonderful group of inductees. There is so much history here, and I am especially excited to join my Dad, Walter Wood, as he was such a role model for me in golf and life," Wood said.
He is a member of the Country Club of Birmingham.